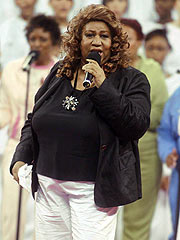 Rumors are spinning that Ms. RESPECT herself is now one of us!! Reports are saying Ms. Aretha Franklin underwent Gastric Bypass Surgery yesterday and the surgery went extremely well with no complications.
"Legendary soul singer Aretha Franklin feels like a new woman one day after undergoing successful gastric bypass, aka weight loss surgery.
"The surgery was highly successful," Aretha said in a statement to Access Hollywood following the procedure. "God is still in control. I had superb doctors and nurses whom were blessed by all the prayers of the city and the country. God bless you all for your prayers!"
Franklin, 68, had the surgery yesterday following a Prayer vigil organized by the City Council in her hometown of Detroit, MI."
Funny to read because in an interview from 2007... Ms. Aretha said she would NEVER have surgery to lose weight because she knows too many women who have had struggles from RNY. I wonder if she has been reading some of my friends blogs??
It's no secret you've had some struggles with your weight in recent years.
Who hasn't had a weight issue? If not the body, certainly the big head! (Laughs.) But I have no such issues now.
How much have you lost?
A lot of weight. I won't say the number, but I found the magic numbers on the treadmill. Slowly but surely. It's all happy.
No surgery?
I would never, ever do that. I know many women [who had gastric bypass surgery] who are having a bad time now, unfortunately. It's nothing I would ever do.
I guess we will have to wait and see for the story to unfold. If she did have WLS I hope she recovers well and is successful. If not, I still hope she recovers well from whatever is ailing her!
xoxo
Sleeve Pixie